As you approach retirement (or are already there) you'll have to start making some major decisions about healthcare, insurance, and even your dental coverage. Even if you're planning on using Medicare, you probably won't have the same type of dental perks that you did with your previous insurance policy. At this point, it's a great idea to consider dental discount plans for seniors or separate dental insurance for seniors.
The older we get, the more at-risk our smiles are for issues like:
Dry mouth (xerostomia), resulting in tooth decay
Gum disease
Replacing old dental work as it starts to leak or age
Bone loss and tooth mobility (or loss)
Even though you may have always had great oral hygiene and very few dental problems in the past, giving up on your dental checkups altogether could cause little issues to spiral out of control.
It's best to stay ahead of issues while they're small, through preventative care and early intervention. But if you don't have senior dental insurance, you'll probably be more likely to shove those problems to the side. Until one day, you're struggling with chronic tooth loss and trying to figure out how you're going to eat normally, or even pay for your treatment on a fixed income.
Fortunately, it doesn't have to be that way, especially with the help of dental savings plans and dental discount plans for seniors.
Who Has The Best Dental Plan For Seniors?
Dental savings plans and dental discount plans for seniors are great options when you retire and need to re-assess your dental benefits.
These plans differ from in-house membership plans, which are private discount options offered through your personal dentist's office (some dentists offer them, others don't, but they provide a flat discount on all services.)
With a dental savings plan, you sign up through the discount dental program through a third-party carrier. But unlike dental insurance, the discount plan doesn't have deductibles to pay, waiting periods to endure, or tiers of coverage. It simply offers a fixed, flat discount on services in addition to two fully covered checkups and healthy mouth cleanings a year. Plus some dental plans include vision and hearing benefits too! You might even say it's better than having dental insurance!
Best Dental Plans for Seniors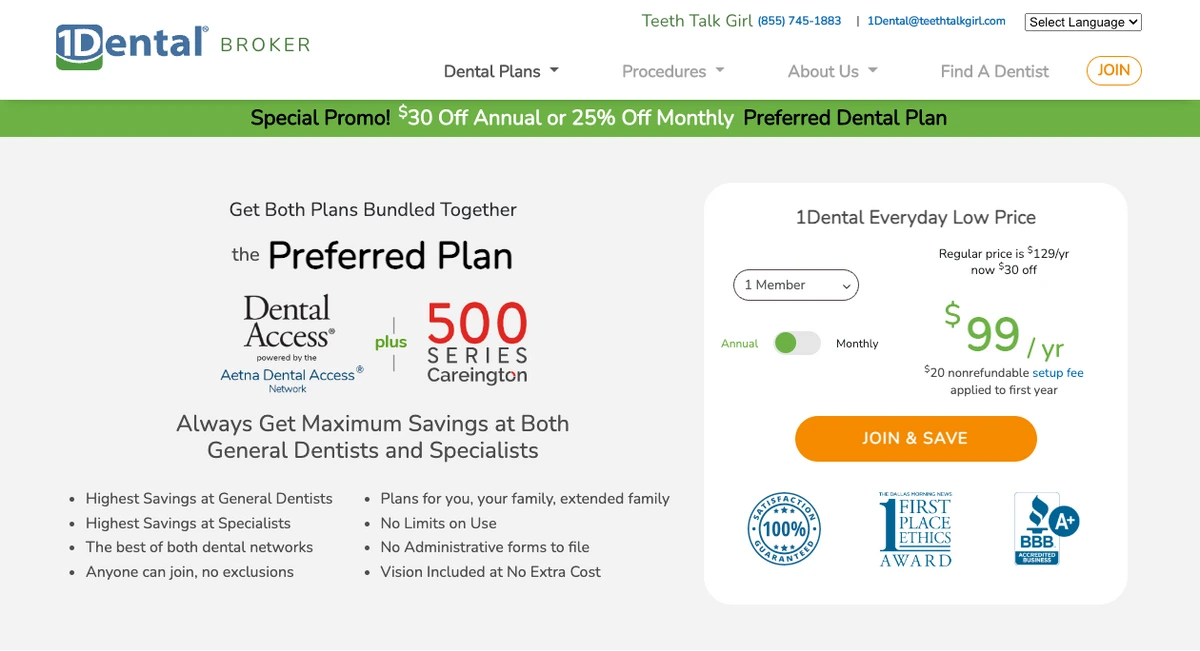 Carrington 500 + Aetna Dental Access combined dental plan is perfect for seniors who don't have dental insurance or don't like the coverage their dental insurance plan offers. 1Dental combined the two most popular dental discount plans to get maximum savings for both general and specialist dental services. You can get two dental plans for the price of one (this is not insurance.)
Plan Highlights
Highest savings at general dentists
Highest savings at specialists
Anyone can join, no exclusions
No annual limits on use
No waiting periods
Vision included at no extra cost
Cons
Family plans cost more than individual dental plans
Pricing
Individual Plan - $99/year
Family Plan - $179/year
We worked hard to get your preferred rates for the combined dental plans. 1Dental is offering the preferred plan for a cost of $99/year for 1 member! That's 58% off! Get the preferred plan here and save today!
Overview
Using a combined dental plan can save you thousands on both basic services and major services. You also don't have any waiting periods or coverage limits like typical dental insurance for seniors. Save big on dental procedures like root canals, crowns, or dentures.
The Aetna Vital Dental savings plan is for individuals, families, and seniors who want affordable dental care but don't have coverage through their employer's medical insurance plan. While this is not dental insurance, you still can save big on dental procedures and services.
Read the full review here.
Plan Highlights
As low as $9.99 a month
No copays, deductibles, or claims to process
Save 15-50% or more on dental treatments
Cons
Not available in some states
Vision and pharmacy are extra each month
Some treatments are not covered, or there is an upgrade charge (i.e., Invisalign)
Pricing
Individual Plan - $164.95/year
Family Plan - $199.95/year
The Aetna dental discount plan is one of the most affordable insurance alternatives you'll find anywhere. Price with vary depending on your location and whether you only need solo coverage or you're enrolling a family.
Overview
You can get the Aetna Vital Dental Savings plan on its own, or with the Dental Plus RX card, which saves you even more because you can use it for things like eyeglasses, eye exams, LASIK eye surgery, and prescription drugs at over 68,000 pharmacies nationwide.
Aetna Dental Access saving plan is not dental insurance. Aetna Dental Access has more than 213,000 available dental practice locations nationwide including specialists like orthodontists and oral surgeons. Save on both dental and vision with one of the most popular dental savings plans on the market.
Read the full review here.
Plan Highlights
Save 15-50% at general dentists
Save 15-50% at specialists
Save 20-40% on vision
Largest list of dentists
No waiting periods
Cons
Plan can be buddle with Carrington 500 plan for the same price
No hearing benefits
Pricing
Individual Plan - $119/year
Family Plan - $179/year
You are better off getting the preferred plan that bundles the Aetna Dental Access plan with the Carrington 500 plan. 1Dental is offering the preferred plan for a cost of $99/year for 1 member! That's 58% off! Get the preferred dental plan here.
Overview
With the Aetna dental savings plan, you get a reputable company with flat discounts accepted at thousands of locations nationwide. As opposed to independent membership programs that are only accepted by specific dentists. With Aetna Dental Access, it doesn't matter where you're at (you could be on vacation and need an emergency dentist), and you have several choices to pick from. And with the pricing tool, you have the inside scoop you need to save more on dental care.
The Careington Care 500 Series Plan is an easy way to save 20-60% on most dental services (this is not insurance.) And like some similar programs, Careington 500 dental plans also have the option of discounts on vision services (including Lasik) and prescriptions. If you don't have dental insurance, it's smart to at least consider Careington dental plans as an affordable way to save on your checkups and medically necessary or elective dental work.
Plan Highlights
Save 20-60% on dental care
Braces, dental implants, and more included
Affordable individual and family memberships
No limitations or pre-authorization
Cons
Plan can be buddle with Aetna Dental Access plan for the same price
No hearing benefits
Pricing
Individual Plan - $119/year
Family Plan - $179/year
Your fee to join Careington dental plans is calculated geographically, with some parts of the country costing less than others. On average, the fee to join is $164.95 a year for individuals and $199.95 for families. 1Dental is offering the preferred plan that combines this plan with the Aetna Access Plan for only $99/year for 1 member! Get the preferred dental plan here.
Overview
The Careington dental plan can save you up to half on your dental-related expenses without worrying about dental insurance claims, co-pays, or maxing out your annual allowable. There's no middleman. You simply show your card to the dental office and immediately get a discount on your treatment.
CignaPlus Savings Plans are for anyone who doesn't have dental insurance or doesn't want dental insurance. The Cigna dental plan gives you a big discount on almost all routine dental procedures, so you can save on everything from dental checkups to smile makeovers (and remember, cosmetic treatments aren't covered by dental insurance!)
Plan Highlights
Average of 37% savings on dental care
All patients accepted – no pre-existing limitations
No waiting periods, deductibles or copays
No annual maximum on services you can use each year
110,000 participating provider listings nationwide
Cons
Pricing
Individual Plan - $164.95/year
Family Plan - $199.95/year
The CignaPlus Dental Savings Plan is an affordable dental option for seniors.
Overview
The CignaPlus Dental Savings Plan is a great option for seniors. Not only can you save on dental care, with the CignaPlus plan, but it also includes additional discounts on Vision, LASIK, and Hearing. (this is not insurance.)
The iDental Discount Plan is another dental savings plan, not dental insurance. It offers major savings on popular dental services like regular exams, X-rays, cleanings, root canals, and more.
Plan Highlights
Save up to 68% on dental care
No referrals needed to access specialists
140,000 participating dentists nationwide
Cons
No hearing or vision benefits
Pricing
Individual Plan - $134.95/year
Family Plan - $189.95/year
The iDental Discount Plan is not only for seniors but an affordable dental care option for the whole family as well.
Overview
Overall the iDental Savings Plan is a good option but it doesn't include vision services or hearing aids. If that's something you're looking for, you may want to consider a competitor plan. Otherwise, you really can't go wrong with the iDental Discount Plan by United Concordia.
7. Guardian
Guardian is an affordable dental insurance company that offers great coverage with solid rates. Guardian has over 120,000 providers nationwide. Dental insurance plans for seniors often cover the full cost of preventive care and offer up to 80 percent discounts on basic procedures such as a dental filling or tooth extractions.
Plan Highlights
100 % coverage for preventative care
No referrals needed to access specialists
120,000 participating dentists nationwide
Cons
Waiting period for major services
Annual maximums and coverage limit
Lifetime deductibles
Pricing
Pricing varies depending on pre-existing conditions, location, and type of plan. Plans range from $20 per month to over $65 per month for comprehensive dental coverage.
Overview
Guardian dental plans offer seniors a simple, safe, and straightforward dental insurance experience. Guardian has an easy claim process and pays out claims in less than two weeks. Gaudian is a great option for many seniors to get insurance without breaking the bank.
Best Dental Insurance for Seniors?
If you plan on getting a new pair of dentures every five years, or just checkups and cleanings, the better option might be to have a dental savings plan instead. Some dental insurance companies have waiting periods that can last upwards of 12 months for major services.
You also run the risk of your dentist not accepting your dental insurance plan or changing networks, which can leave you searching for a new provider. Since discount plans tend to be more attractive to patients and dentists alike, that typically isn't as big of a risk.
How Dental Insurance Plans for SeniorsWorks
Senior dental insurance has tiers of coverage depending on the type of service you're receiving from the dentist. Preventative services like cleanings and exams are usually covered at 100%, so you don't pay anything out of pocket. Whereas basic treatments drop to 80% and major services 50%. And that's only 80% or 50% up to the allowable of $1,000-$1,500, so you're responsible for 100% of any amount that goes over that dollar figure.
Let's say you're going to get a $5,000 pair of dentures, which is "major" dental work. Your dental insurance will pay 50% of major treatments, but only allows $1,500 in treatments a year. You're still paying for $3,500 of that denture, even with your coverage AND the monthly premiums. Your dentist will send off the claim and everyone will cross their finger that it pays out the way you hope it will. For the years between new dentures, you're only using up $100-200 for routine checkups and X-rays.
On the other hand, you could use a dental savings plan and get a flat discount on any and all treatments plus free exams and X-rays in most cases. If it's a 15% discount, you're paying $4,250 for that same denture, but you may not have the same monthly premiums, definitely won't have any deductibles to pay, and you don't have to guess about the total cost out of pocket.
How Much Is Senior Dental Insurance?
Paying into traditional insurance as a senior may cost more than it did when you had a plan through your employer. Since you're purchasing the plan directly and having to navigate things like dental insurance networks, copays, and annual allowables, there's a lot more to consider than just the monthly premium that you're paying. But on average, a typical senior dental insurance policy will run you somewhere between $30 to $100 a month ($360-$1,200 annually.)
Are Dental Saving Plans A Better Option?
Most dental savings plans have one annual membership fee or an extremely low monthly payment option if you prefer to break it up into smaller amounts. They are usually much cheaper than an independent senior dental insurance policy. That alone instantly saves you money! And if you need an occasional filling now and then, you don't have to mess with estimates or dental insurance claims; your dentist instantly applies a discount to the treatment and that's the exact amount you pay.
Dental Coverage with Discount Plans?
Dental discount plans for seniors cover absolutely everything. Everything. Well, as long as it's something provided by your dentist. That's cleanings, X-rays, periodontal treatments, dental bridges, implants, extractions, orthodontics, dentures, etc.
Dental savings plans also cover elective services and cosmetic procedures from your dentist's office. Like whitening, porcelain veneers, and gummy smile treatments. If your dentist offers Botox or dermal fillers, they might even include those as well (you'll need to ask, of course.) Plus there are no waiting periods with dental savings plans.
Choosing The Best Dental Saving Plans for Seniors?
Chances are that if you're considering dental discount plans for seniors, you're experiencing changes in your overall healthcare coverage as well. So, you might as well look for a savings plan that includes some added perks. Such as discounts on hearing and optical services. That way you're only paying one fee to join but can use your discount card at any participating provider, even if they're not a dentist's office.
A multi-purpose health savings card that is usable at dentist's office, eye clinics, and hearing services saves you money and prevents you from having to sign up for more than one discount program.
Dental Discount Plans vs. Dental Insurance for Seniors
Most of us have essentially been trained to think we need dental insurance. But what we don't realize is that dental insurance coverage hasn't increased the yearly benefit amounts with the cost of living for over 40 years. When you switch from traditional insurance to a dental savings plan, you can potentially save more money out-of-pocket, depending on what type of dental care you tend to need.
By the time you reach retirement, you usually have a pretty good idea of what your dental health needs have been over the years. Do you have great, healthy teeth that only need a checkup every year? Or have you struggled with periodontal disease and see dentures in your near future? Your smile is approaching "cruise control" when it comes to care and maintenance in your golden years. If you're living on a fixed income the lower cost of dental discount plans for seniors can be a smart financial decision to make.
Why Are Medicare And Medicaid Not Great For Dental Care?
When you shift from traditional dental insurance to Medicare and Medicaid, the dental benefits you're used to drop off tremendously. Some elective add-on Medicare and Medicaid plans include limited dental coverage, but not usually as much as your previous insurance plan. If you were frustrated with your dental insurance plan before, you'll be really perturbed at the limited dental coverage under Medicare and Medicaid. Plus, there's the fact that very few dentists accept Medicare Advantage Plans or Medicaid coverage, so it makes it that much harder to find a provider in your area.
As a retiree, it's better to get dental discount plans for seniors because you have more provider options and the benefits apply to every dental service. Not just dentures.
How to Save on Dental Care as a Senior
Dental insurance for seniors and dental savings plans aren't your only two options. Even though they're the most popular choices, you do have some other avenues to access affordable dental care. Some of them will work perfectly if you live in the right area or meet certain income requirements, while others may not qualify. But if you'd prefer to pay cash for treatments, you have various routes you can go without having to navigate dental insurance coverage. Here are just a few to get you started:
Dental Cash Discounts
Many dental practices will offer a senior discount to patients over age 65. Particularly if they are paying cash. Other offices will also offer a flat discount if you're paying cash for services, regardless of your age (so if you haven't reached retirement yet but still want to pay cash for your treatment, you may be able to get 5% to 15% off of your dental bill.)
Dental Schools
Those of us who live close to dental schools are in luck. You can receive exceptionally great dental care—including dentures, dental implants, crowns, and extractions—at a significantly discounted rate compared to traditional dental practices. University students are supervised by experienced doctors and specialists, ensuring your safety and an extremely high quality of care. The only downside is you might have to wait a little longer than you're used to, to get a dental appointment (and the visits tend to take a bit more time.)
Shop Around
If you're on a restricted or fixed income, it doesn't hurt to call around to various dental practices to see if pricing is lower at one than another. But you'll probably have to go in for an exam to get a treatment plan—then get a second or third opinion the same way—since dentists can't diagnose or treatment plan specific needs without seeing you in person. If one dentist has a more conservative treatment approach than another dentist in town, the only way you'll know how much they charge is to have them literally look into your mouth and at your current X-rays. Even if you're getting dentures or having a tooth pulled. A phone call may give you a general price range, but it won't be a fixed quote, so don't hold your breath.
Payment Plan With The Dental Office
Unexpected dental costs can be hard to budget for. That's why a lot of dentists will have some type of financing program or payment plan option set up for their patients. Your choices might include something like a third-party 0% interest dental credit card, an in-house financing program, or something similar.
Community Dental Clinics
Charity dental clinics can be brick-and-mortar or pop-up-style facilities where community members can come in for free, basic dental services. Treatments are typically limited to exams, cleanings, fillings, and dental extractions. There may or may not be income requirements, depending on the type of clinic it is. Waiting lists or lines tend to be long, but it can be worthwhile to receive care completely free of charge.
Are Dental Discount Plans Worth It?
If you're a senior who is looking for affordable dental coverage, it's worth it to sign up for a dental discount plan instead of paying for a high premium insurance policy or Medicaid/Medicare add-on. Dental savings and discount plans are easy to understand, simple to sign up for, and never leave you guessing about your out-of-pocket costs for comprehensive dental care. And best of all, they cover absolutely everything. It's not that dental insurance for seniors isn't worth it, but it's time to think outside the box to consider the better options that are out there for people of all ages!