Have you ever tried tablet or "bite" toothpaste? If you like the idea of less waste, highly sustainable products, or minimalism for jet-setting across the globe, the best toothpaste tablets are a great alternative to traditional toothpaste.
What Are Toothpaste Tablets?
Chewable bite toothpaste is usually referred to as "tablet" or "tab" toothpaste. The best toothpaste tabs are a one-to-one substitute for traditional toothpaste tubes. They typically come in a recyclable glass jar or some type of biodegradable single-use packaging.
The Best Tablet Toothpaste
Best Overall Toothpaste tablets with fluoride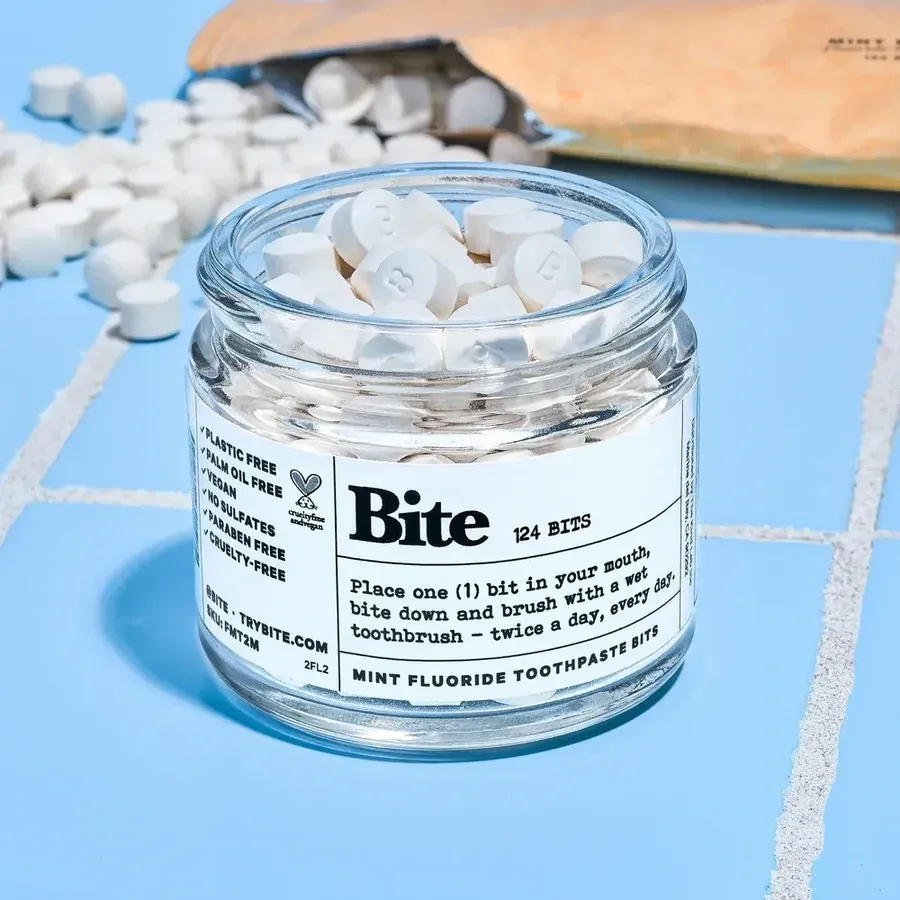 My absolute go-to brand for the overall best tablet toothpaste goes to Bite. Bite Fresh Mint Toothpaste Bits come in packages of 124, and they also contain fluoride for anticavity benefits. They're packaged in a refillable glass jar for sustainability, are vegan friendly, and only contain clean ingredients. Plus, they don't contain sulfates or parabens, or any other "harsh" chemical ingredients. Use them twice a day, and Bite will ship you a refill pouch every four months (in a compostable package) so that you never run out of toothpaste. On average, it comes out to about $8 a month, and there's no added cost for shipping.
I also love that Bite Fresh Mint Toothpaste Bits also contain natural flavor, Xylitol (which also has anti-plaque benefits,) and additional ingredients to strengthen, clean, and whiten your teeth.
Bite recommends using a wet toothbrush when you're using their toothpaste tablets, so if you're on the go and have a water bottle handy, all you need is to dampen your toothbrush bristles.
Bite lets you try their product risk-free for 30 days. They also pride themselves on being cruelty-free. You can cancel your 4-month auto-ship at any time.
Best Nano-Hydroxyapatite Toothpaste tablets

Nano-hydroxyapatite crystals are a special ingredient that, like fluoride, can help remineralize weak tooth enamel to reverse early-stage tooth decay (demineralization.) Huppy uses nano-hydroxyapatite instead of fluoride to help you fight off cavities as well as calcium carbonate, sodium bicarbonate (baking soda), and organic peppermint oil. Huppy also contains xylitol which we know will scientifically help prevent plaque from sticking to your teeth.
Huppy doesn't contain fluoride, but knowing it has both hydroxyapatite and Xylitol still gives you the reassurance that you're doing what's best for your smile. If you have to avoid fluoride for whatever reason, Huppy chewable toothpaste tablets are one of the best picks for bite-type toothpaste. It's also free of artificial dies, GMOs, and parabens. Like Bite, Huppy also offers a subscription service where toothpaste tab refills are shipped directly to your front door.
Most Affordable
If subscriptions aren't your thing Unpaste comes in a pouch of 125 tabs for just under $11. In addition to being a zero-waste toothpaste product, Unpaste is made from vegan products, and comes in compostable packaging. Since plastic tubes can't be recycled, Unpaste takes a 100% waste-free approach to packaging all of its products.
Unpaste also has vegan fluoride toothpaste tablets that come in cinnamon and mint if you decide that you do want a flavored tab option. It's a lot less abrasive than most toothpaste and is totally free of SLS, preservatives, and aluminum nanoparticles. Oh, and they have a fluoride-free option available if you're looking for that.
Every order comes with enough toothpaste tablets for two months.
Best Toothpaste Tablets For Sensitive Teeth without Fluoride
Ah, here we are, right back at Bite again! Bite offers more than just one type of Toothpaste Bits, so you can pick from different flavors or formulas depending on what you need. Their SLS-free version is great for people who are sensitive to sodium lauryl sulfate (SLS), which can make the inside of your mouth peel or feel irritated sometimes. Not everyone is sensitive to SLS, but the people who tend to really react to it.
The non-fluoride SLS-free tablets are specifically available to help combat tooth sensitivity. So, if you tend to have irritation from cold drinks, breathing in cool air, or sensitive teeth whenever you're eating, this is a great option to help manage your symptoms!
Since Bite Toothpaste Bits are SLS-free, you don't have to worry about peeling skin in your mouth. And I'll also go ahead and say this, Bite offers a fluoride-free option, giving you an alternative choice to the Huppy tablets listed above. They come in three flavors: fresh mint, berry twist, and mint charcoal.
Bite toothpaste brand users give the product an excellent rating of 4.9 out of 5 stars. In fact, I haven't seen a single one or two-star review, and even the three and four-star reviews are few and far between. Bite is one of the earliest and most popular tablet toothpaste brands out there. When you get the SLS and fluoride-free version, you can still enjoy a cruelty-free, 100% vegan product that uses clean ingredients and minimizes waste.
Best Runner Up
Need ONE more toothpaste tablet to look at before committing to just one? I've got a great final option for you to consider: Mintly comes in a 4-month supply for $32 or $28.80 when you use the subscribe and save option.
I love that Mintly contains fluoride and a natural mint flavor for a fresh, clean taste. The refills are also packaged in a compostable pouch; simply pour them into the original glass jar that your first round of tablets came in.
Mintly is vegan, cruelty-free, gluten-free, SLS free, and doesn't contain parabens, GMOs, or artificial colors. The brand also makes other eco-friendly products like bamboo toothbrushes with biodegradable bristles, taking the whole compostable and zero-waste product approach to a whole new level.
6. CO. to Go
CO. to Go is an on-the-go anticavity toothpaste tablet with fluoride available from one of the most reputable toothpaste companies around: Colgate. Sixty tablets cost just $9.10, containing enough fluoride toothpaste tablets for a month.
CO. to Go toothpaste tablets are gluten-free, enamel-safe (no harsh charcoal,) and mint flavored for a fresh taste after each use. They recommend chewing the tablet, brushing, then rinsing your mouth with water afterward (which is a little bit different from the Bite brand, but not off that much.)
Plus, CO. to Go will donate a portion of their proceeds to The Cybersmile Foundation, which is an anti-cyberbullying non-profit that helps provide support and advice for cyberbullying victims, as well as awareness campaigns to prevent cyberbullying.
When you use CO. to Go toothpaste tablets with fluoride, you know you're getting both the portability and convenience in a chewable tab toothpaste on top of the reputation of a tried-and-true toothpaste brand (Colgate.) It basically takes all of the important ingredients from Colgate's toothpaste lines and condenses them into a convenient, chewable product that's easy to travel with and cuts down on plastic waste. You also get the good vibe feeling of knowing you're helping others with each purchase that you make.
How To Use Toothpaste Tablets
To use toothpaste tablets:
Always keep the container sealed and in a dry place.
Use dry hands to remove one toothpaste tab from the packaging.
Place the bite toothpaste in your mouth and chew it several times to break the tablet up.
Brush your teeth like normal (two minutes). A manual or electric toothbrush is fine. Some products recommend wetting your toothbrush first, but that's not a must.
Spit any residual toothpaste out in the sink; you don't necessarily need to rinse your mouth, but some brands recommend that you do.
Floss afterward to clean between your teeth.
You don't need to use water if you're using toothpaste tablets, so they're perfect if you're camping, hiking out in the wilderness somewhere, or need in your bag if you're always on the go.
As long as your child knows how to chew the bite toothpaste without swallowing it, they can use toothpaste tablets instead of traditional toothpaste. Be sure to reiterate that it isn't candy or medicine to swallow but a type of toothpaste that needs to spit out once they're finished brushing their teeth.
The best toothpaste tablets are safe to use regardless of conditions like gum disease or existing dental work (including bridges and dental implants.) However, you'll want to make sure the one you're using is non-abrasive so that it doesn't scratch up any of your porcelain or ceramic restorations.
What To Look For In Toothpaste Tablets
Not all tablet toothpastes are created equally. Just like traditional toothpaste, there are some characteristics you need to look for if you're permanently or temporarily switching to a bite toothpaste. Especially since many of them do tend to be made by more "holistic" or "natural" manufacturers that typically steer clear of important ingredients like fluoride.
You'll want your tab toothpaste to be easy to travel with, easy to use without contaminating multiple tablets at once, and of course, practical. But most importantly, it needs to be safe and healthy for your teeth and gums. As a dental hygienist, the best toothpaste tablets I recommend will always meet the following three requirements:
1. They Must Have Fluoride
Make sure that you're always using toothpaste that contains fluoride, whether it's a chewable tablet toothpaste or a tube of the traditional stuff. Fluoride is essential for anticavity benefits and remineralizing weak tooth enamel. It's one of the most important ingredients in any toothpaste, regardless of the type you're using.
Not all tablet toothpaste has fluoride, so be sure to read the packaging and front label. Since fluoride is an "active ingredient," it will always be printed on the front of the packaging where it's easy to find. Some popular brand like hello toothpaste tablets don't contain fluoride so make sure to read the labels!
Since each tablet is the same size, you won't have to worry about fluoride dosing, either. Everyone gets the same amount, whether you're 7 or 47.
2. No Charcoal
Charcoal toothpastes are really popular right now because of their so-called "whitening" properties. But if you're scrubbing with activated charcoal or who knows what type of charcoal on a consistent basis, it can really do a horrendous number on your tooth enamel.
Any time you're brushing with an abrasive, which remember, can include basic baking soda, you have to worry about abrasion and wearing through your enamel (even if you're not scrubbing your teeth too hard.) While the charcoal might make your teeth look cleaner and whiter initially, chewing it and scrubbing it on your teeth twice a day will eventually take a toll on your mouth. It's not a matter of "if" but "when."
3. The Less Plastic, The Better
One of the perks of chewable toothpaste tablets is that there's no mess or waste. Sustainability is at the heart of the product! So, it might come as a surprise when I tell you to look for packaging that's eco-friendly. Typically, that means one container that contains all of the tablets, as opposed to individually packaged tablets that have to be disposed of with every single use.
Most of the best toothpaste tablets come in a glass jar or plastic bottle that is 100% recyclable or made from recycled material. Just be sure to have completely dry hands when you're handling it so that you don't accidentally introduce moisture into the unused tablets.
Can Toothpaste Tablets Replace Normal Toothpaste?
Yes, you can replace your traditional toothpaste with some of the best toothpaste tablets out there. But you need to make sure you're using tablets that contain fluoride. Otherwise, I wouldn't suggest making the switch.
Deciding to replace your regular toothpaste tubes with a tablet or bite version is up to you, but you might also want to do the math. Why do you want to make the switch? To save water? Then have at it! It's estimated that people use about 4-5 gallons of water if they leave the sink running whenever they brush their teeth.
Do you want to save money? Then you'll probably want to stick to the regular stuff. The price per use of a toothpaste tablet is higher than traditional toothpaste, so it's more like you're paying for convenience if that's your main concern.
They Are Great For Travel Or Backpacking
Swapping out your toothpaste for chewable bite/tablet toothpaste is great if you're traveling, like to camp, know you'll be without a water source, or like to have a mess-free option for packing.
People who love to travel, backpack, and camp will love the option of taking toothpaste tablets with them because they practically take up no space at all. Just be sure to keep them in their original packaging if you're going through airport security or customs.
They're also discreet enough that you can keep them in your desk drawer or work bag for that quick brush-up you need before (or after) a lunch meeting.
Finding the best toothpaste tablets