Night guards for teeth grinding and clenching are a smart investment because it's easier and cheaper to change out a mouthguard than it is to repair all of your teeth. But it's vital to use the best nightguards or you could be causing more harm than good.
What To Do About Grinding Teeth
If you're waking up in the morning with sore teeth or headaches, there's a good chance you're suffering from nighttime teeth grinding and clenching. Bruxism can be the result of stress or even sleep apnea. Left untreated, constant bruxism will lead to a host of TMJ issues and worn-out, broken teeth.
They're essentially a buffer between your upper and lower teeth.
Night guards for bruxism are specifically meant to prevent teeth grinding and tooth-on-tooth wear. It won't stop your mouth from clenching shut, but it will prevent the teeth from wearing each other down or too much strain to your TMJ joints.
Talk To Your Dentist First!
The best, most effective, and comfortable option is to have your dentist fit you with a night guard for bruxism. Unfortunately, custom mouth guards for grinding teeth can be super expensive at times. There are, thankfully, some more affordable options out there, like over-the-counter mouth guards. Buying a night guard online can be is a no-brainer for relieving tooth or jaw pain; the night guard cost will prove its long-term value. While we'll review some of the best direct-to-consumer nightguards for people with bruxism, it's very important that you talk to your dentist first. Particularly to rule out sleep-disordered breathing or temporomandibular joint disorder.
7 Best Mouthguards for Teeth Grinding
Let's say that a custom-made night guard for bruxism is off the table. If your dentist recommends an over-the-counter mouth guard for grinding teeth, there are still several great options that are semi-customizable or made from a DIY impression kit. Just remember that none of these mouth guards, be they for grinding teeth, sports, or something else, are going to offer the same level of detail or durability as one that's fitted by your dentist. Sports mouth guards are a little different; we'll be discussing professional night guards in this review.
All of that being said, if your dentist clears you to get a commercial night guard for bruxism, these top 7 designs are some of your best options to choose from. Their semi-customizable shape offers a more comfortable and protective design that will be easier for you to sleep in at night, instead of taking it out when it feels bulky (defeating the purpose.) The best mouth guard is one that you will use!
Best Overall Mouth Guard & Most Comfortable
In the business since 2012, Pro Teeth Guard offers a 60 day, 110% money back guarantee. That's definitely about as good as it gets when you're talking about mouth guards for grinding teeth. When you order, they mail you an impression kit, you take molds of your mouth, then return it in the prepaid envelope. They'll double check your impression to make sure everything looks like (again, I have to emphasize that taking dental impressions is harder than it looks) and if you're in the clear, they'll ship you your new night guard for bruxism.
Key Features
Unlike other types of DIY nightguards for teeth grinding, Pro Teeth Guard has four levels of designs and helps you select the best one based on your level of clenching and teeth grinding. Pro Teeth Guard guarantees a perfect fit and 5-star customer service.
Available in hard, hybrid, ultra-thin, or soft designs
110% money back guarantee
60 day satisfaction guarantee or your money back
Known for amazing customer service
Cons
You really can't go wrong when a company offers you even extra time and a 110% money back guarantee on their product. There are practically no "cons" about this one, unless you consider the selection of four different designs a little overwhelming.
Pricing Options
Pro Teeth Guard prices their dental night guards based on the level of protection and design that you need. For heavy grinders, the hard night guard is $209.99. The hybrid design for moderate teeth grinding to heavy wear is a little less, priced at $189.99. Then there's the ultra-thin guard for daytime grinding which only costs $179.99, and the soft night guard for light bruxism that's priced at $169.99.
Final Thought
The Pro Teeth Guard is a win for me, because it's priced competitively but with an extra money-back guarantee if you're not happy with the product. Plus, having four different designs to pick from is great, especially if you've ever worn a nightguard for bruxism before and know what you need. Their designs are a one-time purchase, so you don't have to worry about being locked into any type of a subscription plan with other costs coming your way.
Best Value Night Guard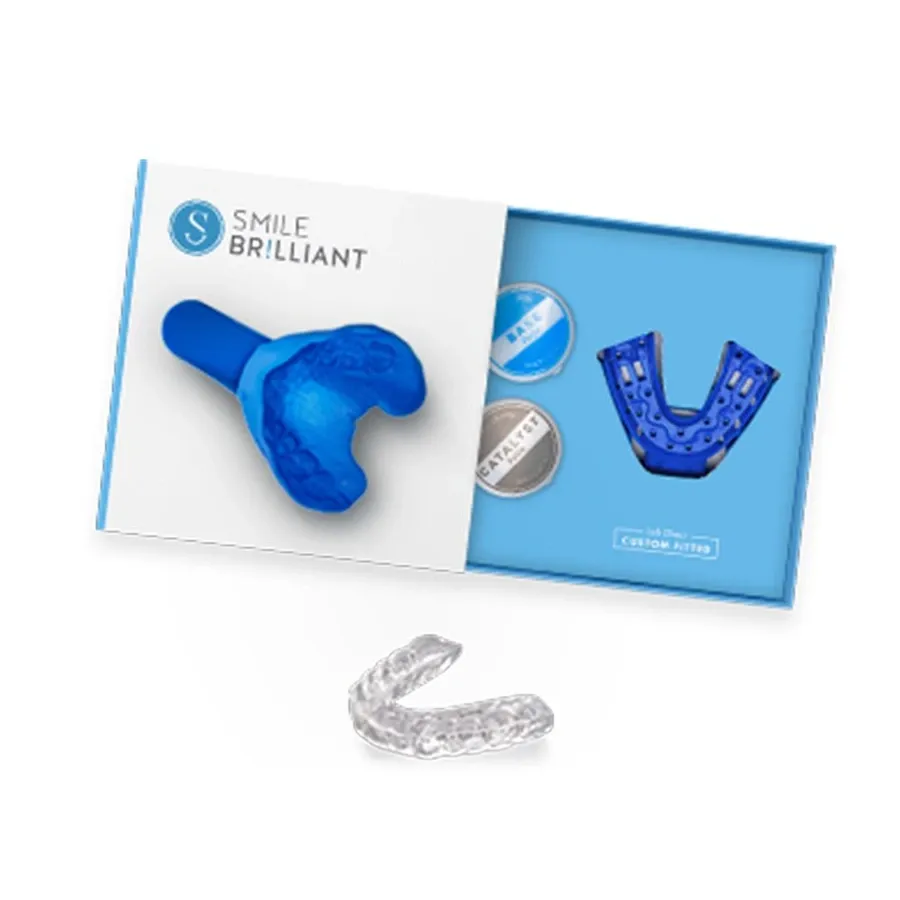 Smile Brilliant is another night guard company who has dental technicians make each appliance in their private lab. They even send you two containers of dental impression material just in case you accidentally mess up the first one (remember, I told you it can be a challenge!) They keep your dental impressions on file just in case you need a new bruxism mouthguard later on.
Key Features
Smile Brilliant is a quality oral appliance manufacturer who offers services directly to patients as well as dentists. They also keep all of your impressions on file in case you need a new appliance made in the future.
Choose between an upper or lower guard (one or the other)
No subscription fees; just pay a small fee if you need a new guard made
Products are also provided directly to dentist's offices in the US that do not have their own in-house lab
45-day trial
Re-orders for new guards range from $25-45 per appliance
Cons
There's only one version of the night guards: ultra-durable. So, if you want the flexibility of picking from various textures or thicknesses, this isn't your brand. Also, the ultra-durable mouthguard is only estimated to last 3 months for people who are heavy teeth grinders. But if you buy them in a four pack (for only $50 more) it has you covered for a year. You just have to sit and work out the math when you compare the shorter lifespan of mail-order night guards vs. those made by your dentist.
Pricing Options
Your pricing options for Smile Brilliant's ultra-durable bruxism guard are $129 for one, $159 for two, and $179 for four. The catch is that each one lasts about three months. Depending on how many you order at a time, you can get replacement mouthpieces made for another $25-45 a guard.
Final Thought
Smile Brilliant is known for providing a great product all around, and you'll get your most bang for your buck by ordering four at a time. But considering they only last a few months and come in one style, you may want to make your decision based on the immediate price point when it compares to other types of mail-order bruxism night guards.
Best Subscription Night Guard
Remi is another great custom night guard company that prides itself as being 80% less expensive than going to the dentist's office. Remi also offers teeth whitening lines of products, as the impression process for both appliances are similar. Each Remi night guard for bruxism is made by actual dental professionals from the impressions you take at home. They use FDA-approved materials and ship the appliances to your door.
Key Features
Remi sends you a complimentary impression kit for you to take molds of your teeth and send them back to their lab. They design a custom mouthguard from your impression and ship it straight back to your house.
Option for a one-time purchase or a subscription membership
30-day guarantee
Dentist-made appliance that's easy to sleep in
Option of top and bottom night guard set (upper and lower teeth)
Cons
Like Cheeky, Remi has the option of renewing your bite splint every so often (in this case, every six months.) Maybe that's not necessarily a bad thing, but it is another incurred cost to consider when you're comparing DIY dental night guards with dentist-made devices. And a side note about DIY dental impressions: they're easy to mess up, regardless of the brand. Make sure you follow the directions to a T.
Also, Remi only comes in one type of bite splint design instead of various texture choices.
Pricing Options
Remi has two pricing options for their bruxism mouth guards. You can buy a single night guard for $169 as a one-time purchase (plus $9 for shipping.) Or you can pay $129 to join the Remi Club and get a replacement mouthguard every six months for $49 (free shipping.)
Final Thought
Buying a single Remi night guard is way cheaper than an actual dental night guard for bruxism. But like other designs, it still has to be replaced every so often. That being said, it's one of the best nightguards for someone with chronic teeth clenching and grinding who needs an affordable alternative to manage their bruxism habit.
Most Cost-Effective Dental Guard
JS Dental Lab's goal is to provide cost-effective and comfortable custom-fitted night guards without leaving your home. Their main focus is on designing night guards that are durable and comfortable for long-term use. They also offer a 365-day money-back guarantee on their night guards. Once you've placed your order, the kit is delivered to your doorstep the next business day, containing all the necessary materials to take your impression of your teeth. You can return the impression to JD Dental Lab using a prepaid and pre-addressed mailer. Skilled technicians start creating your night guard once they receive your dental impression, and it typically ships within three business days.
Key Features
JS Dental Lab standout with its $1 trial, making them the most cost-effective custom night guard provider on this list. You can purchase an impression kit for $1, try your new night guard for a few nights, and make adjustments if you're not entirely satisfied. You only pay the remaining balance if you're happy with the final product.
Free Shipping
365-day return policy
100% Satisfaction Guaranteed
Cons
Some customer reviews have highlighted that communication with JS Dental Lab is only available via email or SMS.
Pricing Options
The cost of custom night guards varies between $125 to $185, depending on the severity of teeth grinding.
Best Deal Custom Mouth Guard
Sporting Smiles is a company that specializes in custom night guards, made by dental technicians in their private lab. Each night guard kit includes putty impression trays, an instructional video, and a prepaid return label, making it easy to take the impression at home and save money on a visit to the dentist.
Key Features
The Flexible Super Hard Dental Night Guard is the strongest option available, designed to protect your mouth from severe teeth grinding and clenching. Sporting Smiles offers:
Free Shipping
30-Day Warranty
100% Satisfaction Guaranteed
Cons
However, this night guard is only suitable for severe teeth grinding, so if you want more flexibility in terms of texture or thickness, you may need to consider another option
Pricing Options
Pricing options include a night guard for $100 and an additional whitening solution for around $35.
Best Bruxism Options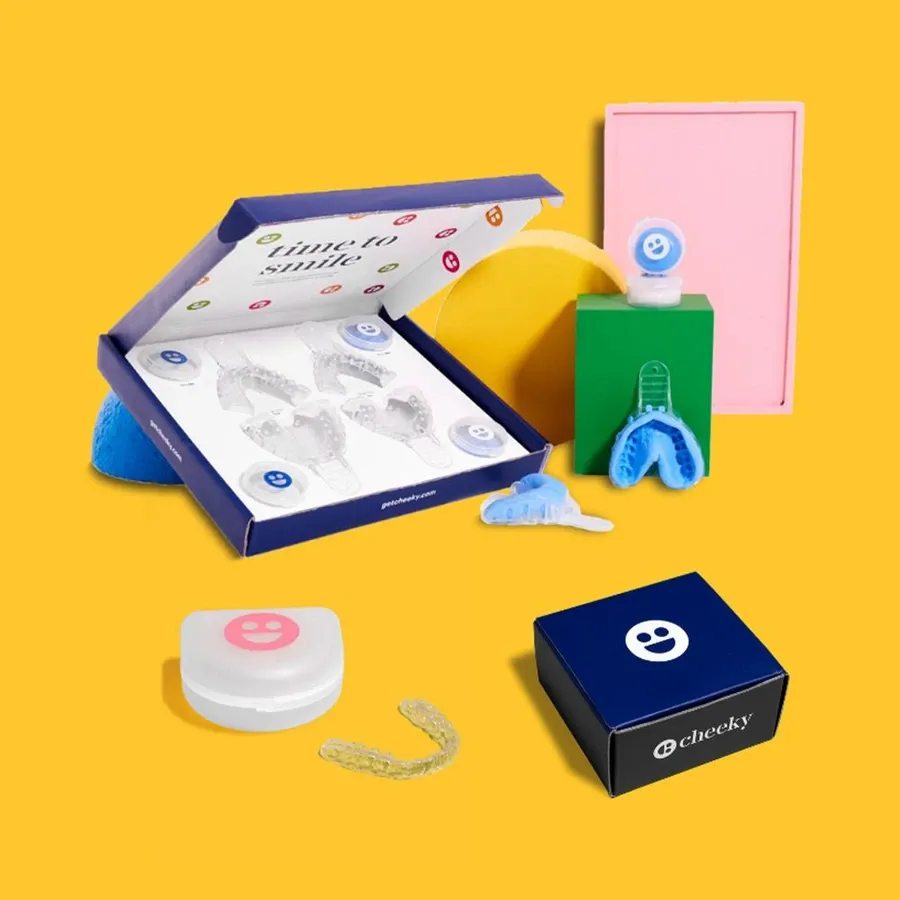 Cheeky prides itself in offering "dentist quality night guards" for bruxism that fit your smile with the help of their complimentary DIY teeth impression kit. Since they aren't a "boil and bite" design like what's in a drugstore, you can achieve a better fit. Cheeky also sends out new nightguards to replace the old ones as they get grimy or wear out.
Key Features
With Cheeky you have the option of a hard or soft night guard for bruxism. Since some people prefer more cushion, the soft option is nice. But if you tend to really grind right through your night guards, the harder option is a better choice.
Choice of hard or soft
Retails for $219 ($153 with promo codes)
30-day money-back guarantee
DIY teeth impression kit for custom fit
Cons
Any DIY kit, be it for night guards for bruxism or mail-order clear aligners can be messed up if the impression comes out wrong. The way you take your impression impacts the comfort and accuracy of your oral appliance. And if you don't know whether you need or want a hard vs. soft design, you could easily be out almost $200 before you find something you like. Also, Cheeky is a subscription service so you're continually paying for new nightguards every so often.
Pricing Options
Cheeky nightguards are advertised at $219 but they frequently run promos where the kit only costs $153 for one night guard. You can also get add-on options like a $99 whitening kit to use with your trays and a $30 electric toothbrush. Bundle them all together and save 20%.
Final Thought
When you want a custom-fitted nightguard without paying $500 or more from a dentist-made design, Cheeky is a great option. But you need to know whether you prefer hard or soft for your bite splint and that it will be a subscription service since the appliances don't usually last as long as one made by your dentist.
Best Bite and Boil
Want a reputable night guard for bruxism without the hassle of trying to take your own dental impressions? I don't blame you! Oral B is a respected dental brand with a stock mouth guard (for grinding teeth at night) that uses a traditional "boil and bite" fit feature. Only instead of boiling the one-size appliance, you're microwaving it for a custom fit. This style of night guard allows for a semi-fitted feel at a super-affordable price of under $25 total. If it doesn't work for you, you can also send it back for a full refund.
Key Features
Reputable oral care brand
Under $25
Microwavable "boil and bite" type of fit
No impressions necessary
Easy to fit and wear
More comfortable than a one-size splint
Get it in one day (no waiting)
Cons
Some people don't like the boil-and-bite type of nightguard design, while others find it easier to use than mail order kits. Thankfully the affordable price makes up for it, because even if you don't like it, you're not really out much money to begin with. The shape of the Oral B guard doesn't always reach all the way back to your back molars, which can be annoying at times (but it still works, even if it doesn't reach that far back.)
Also, the edges of your night guard will be a little bulkier compared to one that's made by a dental lab.
Pricing Options
If you want a cheap night guard for bruxism, Oral B is your best bet. These appliances only cost about $18 or $19 online. That's less than one replacement mouthguard from other popular manufacturers. Wear it as long as you need to then change it out for a new one without stressing about the financial investment.
Final Thought
People who are brand new to wearing mouth guards for teeth grinding may find it beneficial to start out with a DIY moldable Oral B bruxism appliance. If you feel it helps but decide you want a better fit later on, you can always upgrade to a mail order one or a design fitted by your dentist. A $20 investment is a great option for trying out an over-the-counter bite guard without going broke.
Night Guard Side Effects
Even though night guards for bruxism are meant to protect your teeth, an improper-fitting appliance can cause major issues such as TMJ pain, headaches, sore teeth, or even gum recession. And if you don't clean it properly, it can trap plaque and acids against your teeth.
Do not try to fake it till you make it with an uncomfortable nightguard. If it doesn't fit right, stop wearing it or send it back.
How to Choose a Mouth Guard for Teeth Grinding
Do you know you need a mouth guard for grinding teeth or constant bruxism symptoms? Even starting with this list of some of the 7 best nightguards you may feel a little overwhelmed. That's ok. Ideally, you're getting one from your dentist, but if your teeth grinding is minor or the price is inaccessible, a commercial bruxism guard is fine.
Ultimately any mouthguard is usually better than no night guard for bruxism. Because without one at all, your teeth can and will wear down over time. If you're a heavy clencher you probably need a thicker, more durable night guard. Whereas if you only clench lightly when you're stressed out on occasion, a thinner or softer one will usually make due.
Here's what you need to consider whenever you're narrowing down your choices:
1. The Severity Of Your Teeth Grinding
The more you grind your teeth and the harder you do it, the stronger your mouthguard needs to be. Some designs offer levels of protection ranging from light or infrequent bruxism to heavy, severe teeth grinding. If you're burning through your mouthguards left and right, you need a more durable version to sleep in. Inexpensive DIY or mail order mouthguards are usually all you need if you're only clenching and grinding your teeth every now and then. But heavier duty, thicker bruxism guards are a must if you're a heavy teeth clencher every night.
2. Fit & Comfort
If your mouth guard isn't comfortable, you're not going to make it through the night. More people take their bruxism nightguards out because of a bulky, uncomfortable fit than any other reason. You want one that's conformed to your teeth so that it "fits like a glove" and won't go anywhere. Otherwise, you may be thinking, "Hey, this is going to slip off my teeth and choke me while I'm sleeping?" Probably not, but you get my point. The fit of your night guard will be both for comfort and compliance. Without either one of those, it just won't do its job at all.
3. Materials
When you're buying a mouth guard for teeth grinding, check to see which materials the manufacturer uses. Are they similar to the acrylic or BPA-free products you receive from a dentist? Are the impression materials that you're using for your mold FDA approved? You want to know what's going in your mouth, right? Absolutely! If the brand is reputable (like Oral B) or they advertise that they use the same materials as dental offices, then you won't have to stress about this part very much. Other than relating the materials to the overall durability, such as a hard vs. soft mouthguard.
4. Durability
With custom oral appliances—be it a night guard for bruxism or an orthodontic retainer—you want it to last. Now with mouth guards for grinding teeth, you're naturally going to probably wear through them. But that's the point. You want to wear out the acrylic splint instead of your tooth enamel. If you buy a cheaply made nightguard or one that's too thin, you'll be replacing it more often than you ought to. Thicker, harder, more durable ones tend to last a bit longer because they more closely resemble what you get from your dentist.
5. Type & Price
I'll say it again: a custom night guard for bruxism that's made by your dentist is going to be the best option. It will fit perfectly, is made for durability, and can outlast other options on the market. But if you do want an over-the-counter or direct-to-consumer version, be sure to look at the price points as they relate back to how long they typically last. Some only last a few months. When you're buying them over and over again, you've essentially paid for a professionally fitted best nightguard over time instead of all upfront.
Types Of Night Guards For Teeth Grinding
Technically there are about four different types of mouth guards for bruxism. Each one is made differently, available at a different price point, and is used for different things. Your dentist will usually advise that you get a night guard if you're already showing symptoms of TMJ pain, headaches, or worn tooth enamel. Especially if you're about to invest in something like dental veneers or a smile makeover, where your dental work runs the risk of getting chipped.
Each type of night guard is made to work, fit, and function differently (or offer an affordable alternative to one that's similar.) Here are your four main options to pick from:
1. Dentist Fitted
Custom bruxism night guards are professionally fitted by your dentist. They will take an impression of your teeth and then pour a model of your mouth from that mold. Then a thick piece of acrylic, or several layers of acrylic, are melted down on top of the model and shaped around the curves of your mouth. The edges are smooth and uniform to make them even more comfortable to wear while you're sleeping.
Dentist-fitted bruxism mouthguards sometimes have a soft inner liner or they can be a hard acrylic. These appliances typically last at least a few years at a time.
2. Boil-and-Bite Style
A "boil-and-bite" or microwavable mouthguard is one that has a semi-moldable inner layer that you can partially shape over your teeth. It won't have the tighter custom fit of a professional night guard, but it will definitely fit better than a one-size-fits-all version from the supermarket.
Moldable at-home bruxism mouthguards usually give you one attempt at trying to shape the night guard over your teeth. In other words, make sure you follow the directions word for word. Also, be careful not to burn your mouth during the process!
Some boil-and-bite mouthguards are also one-size-fits-all night guards and vice versa, depending on the manufacturer's specifications.
3. One-Size-Fits-All
Or should I say one size fits "some?"
One-size mouthguards are what we call stock guards. That is, they're created in bulk and available over the counter at most drugstores and supermarkets. Generally, they all come in one size or shape. Sometimes there are 2-3 sizes to pick from, for people who have smaller or larger mouths that don't fit one-size products.
With one-size bruxism appliances, the shape of the mouthguard is more of a solid, consistent form. Similar to what you'd see with a one-size sports mouthguard.
4. Direct to Consumer
These are your DIY dental impression kit versions where you mail the mold of your teeth off to the company lab and they send your custom mouthguard back in the mail. Cheeky, Remi, Pro Teeth Guard, and Smile Brilliant are four good examples. They use true physical models of your mouth to fit the appliance of your teeth for the most customized fit outside of an actual dental office. And if they say they keep your impression on file, they probably scanned it in as a 3D model for quick replacement if you ever need a new one.
Should I Get Upper Or Lower Teeth Mouthguard?
When you wear a night guard for bruxism, you're only wearing one. Not a pair. It will either go over your upper teeth or lower ones, but not both (the kind that do that are for sleep apnea.)
So, should you wear it over your top teeth or bottom ones? For most people, night guards go over your top teeth. It just feels more natural and comfortable that way. But depending on if you have any missing teeth or extensive dental work, your dentist might recommend wearing the mouthguard on your lower arch.
The main thing to keep in mind is getting your night guard to fit comfortably and securely. If one arch of teeth can do that better than the other, then that's the jaw you'll want to wear it on. And 9 out of 10 times, it's your upper jaw.
How Do You Clean A Mouthguard?
You need to make sure you clean your mouthguard regularly, the same as you would an orthodontic retainer, sports guard, or even a denture. Every time it comes out of your mouth you should be rinsing it off. Ideally, you'll also give it a good once over with a soft toothbrush.
If you start to notice that your night guard is accumulating buildup, soak it in a gentle denture cleanser for several hours to loosen the debris. Then rinse it with lukewarm water and brush it clean. You can also use antibacterial hand soap on it.
Make sure you're storing your night guard in a cool, dry place where it can air dry but also be out of reach of any pets or kids. The last thing you want is your dog making a chew toy out of it!
How To Sleep Comfortably With A Mouthguard
If your appliance is causing jaw pain, whether to your teeth, gums, or something else, don't tough it out. A proper fitting night guard isn't going to hurt to sleep in. Your dentist will need to adjust it if they made it at their office. Otherwise, if it's a stock guard, boil and bite, or mail-order variety, you will need to stop wearing it altogether. That's where those refunds come in handy.
How Long Does It Take To Get Used To A Mouthguard?
It usually takes at least a week to get used to a night guard, but it's not unheard of for it to take up to two weeks. At first, your tongue will probably be preoccupied with feeling the appliance over your teeth. You might even notice that you're biting down on it more than you should just to try to get used to it. If you like, you can consider wearing it before going to bed to try to adjust to it more quickly. Just make sure your teeth are completely clean (brush and floss) before putting the night guard over them.
Other Treatment Options
Besides wearing a night guard for bruxism, one other popular treatment method that's available is botulinum toxin injections.
Yep. Botox.
Finding the Best Mouth Guard
If you clench or grind your teeth at night, the best nightguards will protect your tooth enamel and dental work against chips, breaks, and premature wear. A night guard for bruxism is an important piece of insurance to have for your smile and your TMJ! Although you can get mouth guards for teeth grinding from your dentist's office, they can usually be expensive. These top 7 commercial direct-to-consumer and boil-and-bite varieties offer a practical alternative for a tighter budget.